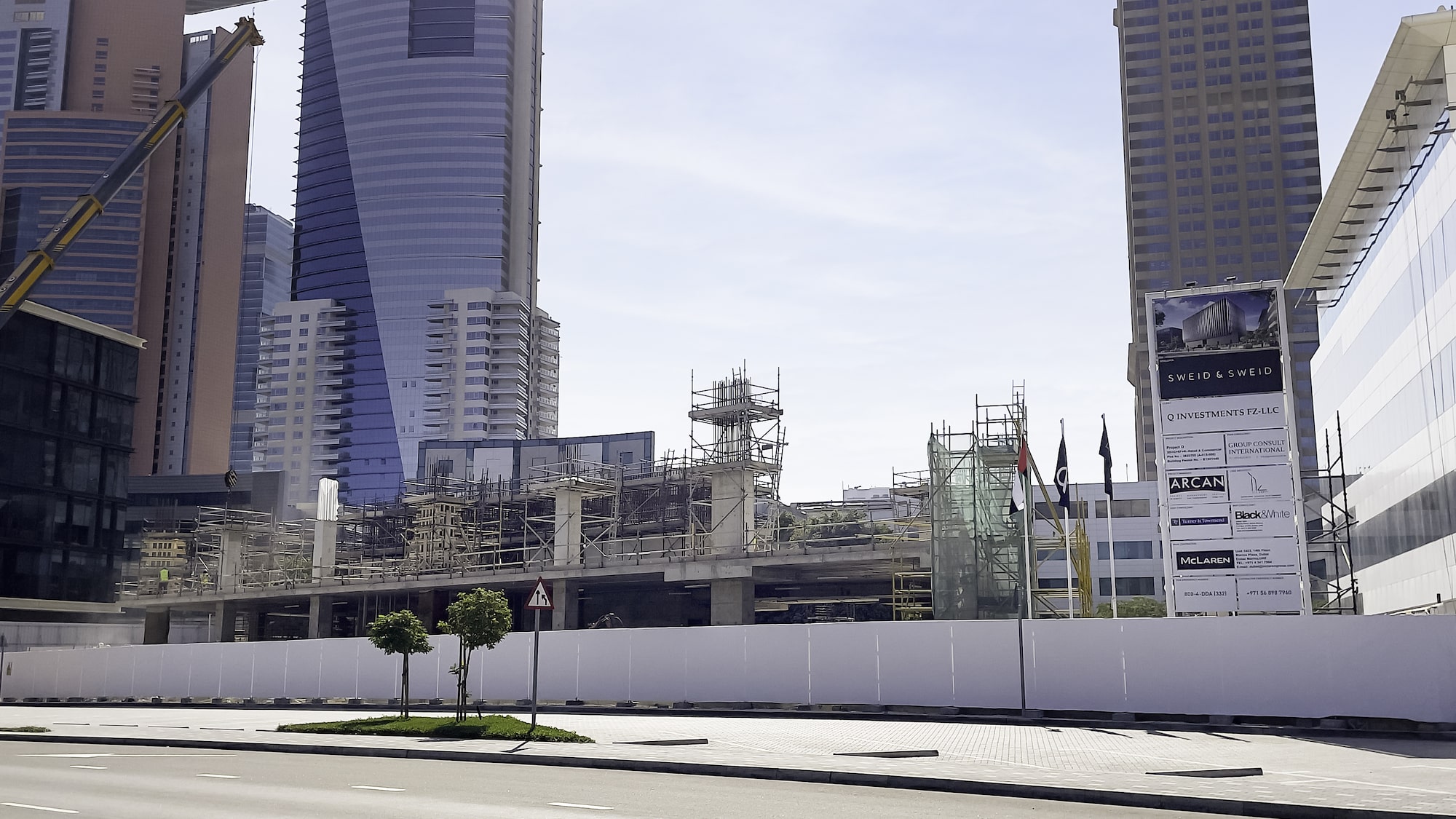 Construction Update | 6 Falak works underway
Sweid & Sweid has provided an update on the firm's new commercial development 6 Falak, with construction well underway at the plot located in Dubai Internet City (DIC), adjacent to Visa CEMEA headquarters. When complete, 6 Falak will deliver over 90,000 square feet of leasable area built to institutional-grade specifications. McLaren Construction is the main contractor for the project, the UK-based contractor – widely known for the construction of landmark developments including the UK Expo Pavilion in Dubai, Sharjah's House of Wisdom, and The Hub in London – began work on site at the end of December 2022.
Director of Construction, David Fell, explained more about the project, stating that a pre-existing structure on the site added a layer of complexity to the design and methodology. Construction of the previous development had reached level one above ground prior to being abandoned, with three basement levels also completed. Plans for 6 Falak involve retaining these basement levels and core, while removing a significant portion of the existing first-floor slab to make way for Sweid & Sweid's signature double height lobby space at ground level, and enhancing the tenancies located at ground level. "We have retained elements of the existing structure from a previous development," he explained. "This includes the three-level basement, which fills the entirety of the plot. We conducted thorough investigations and found the structure underground to be technically efficient and in very good condition. We are currently undergoing the first fix MEP through these basement levels, with strengthening works ongoing and some demolition to facilitate a substation relocation."
Fell continued: "The architectural vision for 6 Falak is very different from the previous development on the plot, and it is also something of a departure from anything we have done before as a firm. We went through many iterations to arrive at the final design, which we're all very proud of. It's both visually striking and highly efficient, and will become a new landmark for the district. Our reputation as a firm has been built on developing the highest standard of architecture, together with the use of high-end materials and first-class project delivery – on time and on budget. I'm certain this reputation will be further enhanced through this project."
With flexible floorplates designed to accommodate single or multiple tenancies, Fell revealed that a number of organisations have already made a commitment to 6 Falak well in advance of completion, including Sweid & Sweid. He said: "We will be relocating our head office to the building, and we have seen huge interest from several multinationals looking to join us. The market demand is very strong, particularly for upscale buildings such as 6 Falak, which features multiple communal areas, landscaped outdoor spaces on each floor, and a unique design driven by community and collaboration."
Fell finished by revealing that 6 Falak is being developed to LEED Gold certification as part of Sweid & Sweid's continued commitment to sustainability and green initiatives throughout its developments. "6 Falak is designed to LEED Gold as part of our sustainability mission, and our obligation as a leading developer in Dubai. Taking over and building upon a previously abandoned structure is a large undertaking, but adaptive re-use makes perfect sense from an environmental standpoint. We are constantly evaluating our environmental KPIs, and this is also an important factor for prospective tenants who have their own sustainability goals. I think it is now vital for new commercial buildings in Dubai not only to have LEED Certification, but to aim for LEED Gold."
Construction continues, with a target of Q1 2024 completion.