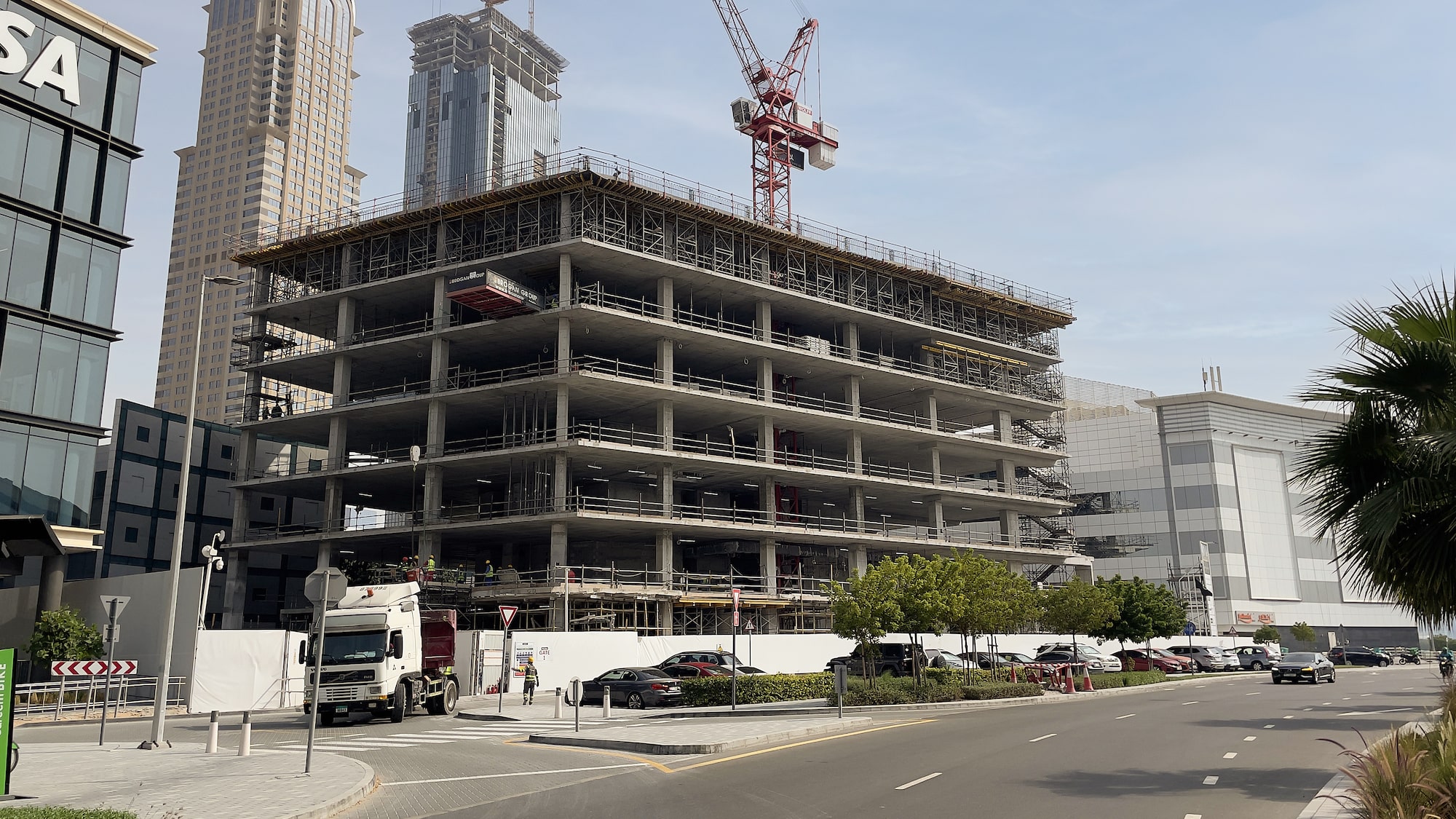 Construction Update: 6 Falak Structure Topped Out
Sweid & Sweid is pleased to announce a significant construction milestone for its latest commercial project, 6 Falak, located in Dubai Internet City (DIC). The commercial office building has successfully topped out, and the project remains on track for timely delivery in the first quarter of 2024.
Upon completion, 6 Falak will offer over 84,000 square feet of leasable area, built to meet institutional-grade specifications. The project is aiming for LEED Gold certification, showcasing its commitment to sustainability and environmental responsibility. Providing an update on the project's progress, Director of Construction, David Fell, highlighted the current phase of development. "We have initiated the façade installation works," he stated. "The site is witnessing a peak in activity, which will be sustained until the completion of the project."
Fell further explained that the construction of the commercial building is undergoing a transition phase, with the structure already topped out before the recent Eid holiday period. "Works on the façade are currently underway, and internal fit-outs have commenced," he said. "Despite facing substantial challenges related to the adaptation of a previous structure on the plot, including the demolition of parts of the existing building to facilitate double-height spaces, the team has demonstrated exceptional dedication in meeting the project's timeline. With the majority of structural works completed and the façade taking shape, both internally and externally, the project has truly transformed." Fell expressed his satisfaction in seeing the hard work of everyone involved, from the pre-construction phase to the current stage, finally coming to fruition.
Sweid & Sweid is proud to announce the appointment of ISG for the interior fit-out works. Additionally, pre-leasing activity has commenced, with a renowned international management consultancy firm already signing on as a tenant. Global Ventures and Sweid & Sweid themselves will also relocate their headquarters to 6 Falak upon its completion. Fell emphasised the collaborative effort and seamless synergy among stakeholders, ensuring a focused and smooth path to the finish line. "With ISG onboard for the fit-out works, progress will continue in parallel with the façade and MEP (Mechanical, Electrical, and Plumbing) works, all aiming towards the target completion date."
The project is on schedule to be fully completed in the first quarter of 2024.
For more information about 6 Falak or to get in touch with us, please contact us today.